The 15th Annual Watermill Benefit
Marlene Dietrich in Dr. No's Ludovico Clinic (Dr. Baby's Erzland)
Jonathan Meese
The Watermill Center - 39 Watermill Towd Road, Watermill, NY
31 July - 10 August 2008
The Watermill benefit is known as the best art party of summer. Each year at the end of July, that king of avant-garde drama Robert Wilson and his acclaimed foundation present their artists-in-residence in the form of an installation heavy, no-expense-spared cocktail extravaganza, littered with equal parts socialite, theater and art world. All in an idyllic setting off the beaten path of the Hamptons. People fly in from all over the world to attend, and there are always a smattering of celebrities and artists. This year Rufus Wainright looked especially sharp in his Viktor & Rolf suit, while Kim Cattrall went with simple and elegant. Fashion-wise, all attending were upstaged by the brilliant costume of Russian artist Andrey Bartenev, this year sporting a minimal black and white op art jumpsuit with giant inflatable spheres along his body contour. As one collector was overheard saying, "I know it's a good party if Andrey is attending."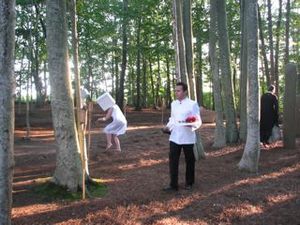 This year, the main event of the benefit was courtesy of Jonathan Meese. Fresh from his solo exhibition at Bortolami Gallery in New York, Germany-based Meese took over the main building of the center, and turned the various rooms and performance area into an orgy of collage, video performances and Germanic graffiti about the role of art, or rather of Meese's all-inclusive pantheon of art and history in which personality is king, and fictional figures meld with the factual in a complicated belief system that's hard to crack. The bottom line, if one is to believe artist statements, is that "Art is not a religion, but every Religion is Art."