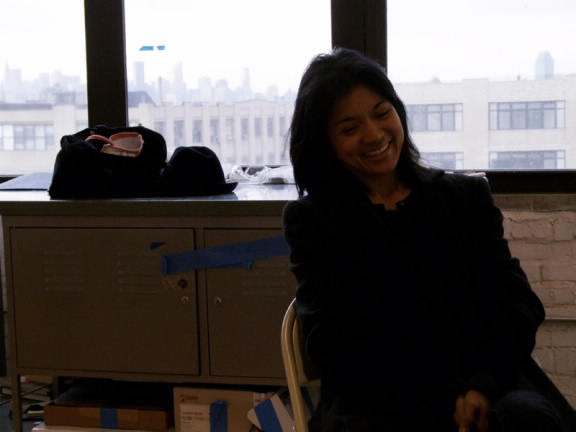 Michelle Lopez - The Violent Bear It Away
21 March - 17 May 2009 at Simon Preston Gallery
301 Broome Street
A conversation with artists Michelle Lopez and Andrew Cornell Robinson that took place in both of the artists' studios in Bushwick, Brooklyn on 7 April 2009.
Andrew Cornell Robinson: When you went to California there was a shift in your work. In fact there seems to be several moments when your work has undergone significant shifts in attention and focus evidenced by the materials you use and your conceptual concerns.
Early on you started to work with leather, which became your signature material. Much of your work has had this intense exploration of material. What's that about?
Michelle Lopez: Back in grad school, I was working with chocolate, and apple skins. I was trying to find a way to re-contextualize a material, something that was incredibly familiar to us. In a way the work is about how to invert something that is masculine and make it feminine, create this ambiguity. The thing that I am interested in most, is exploring androgyny. In terms of my education, I was interested in a feminist perspective, but I wasn't really interested in a feminist aesthetic.
AR: What do you mean, like Judy Chicago?
ML: I was interested in feminist theory but not entirely convinced by the art, well yeah Judy Chicago, like all of the artists associated with early feminism.
ACR: A friend of mine calls that aesthetic "My Tortured Vagina" art.
ML: (Laughter) Exactly! So in a way I wanted to create work that was specifically non-gendered. For me it's really hard to talk… I don't want to be specific about the language. I feel like I can so easily get pinned down, and I don't want to, so it's better for me to keep the ideas open.