The 15th Annual Watermill Benefit
Marlene Dietrich in Dr. No's Ludovico Clinic (Dr. Baby's Erzland)
Jonathan Meese
The Watermill Center - 39 Watermill Towd Road, Watermill, NY
31 July - 10 August 2008
The Watermill benefit is known as the best art party of summer. Each year at the end of July, that king of avant-garde drama Robert Wilson and his acclaimed foundation present their artists-in-residence in the form of an installation heavy, no-expense-spared cocktail extravaganza, littered with equal parts socialite, theater and art world. All in an idyllic setting off the beaten path of the Hamptons. People fly in from all over the world to attend, and there are always a smattering of celebrities and artists. This year Rufus Wainright looked especially sharp in his Viktor & Rolf suit, while Kim Cattrall went with simple and elegant. Fashion-wise, all attending were upstaged by the brilliant costume of Russian artist Andrey Bartenev, this year sporting a minimal black and white op art jumpsuit with giant inflatable spheres along his body contour. As one collector was overheard saying, "I know it's a good party if Andrey is attending."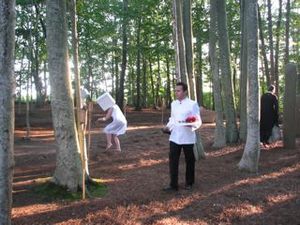 This year, the main event of the benefit was courtesy of Jonathan Meese. Fresh from his solo exhibition at Bortolami Gallery in New York, Germany-based Meese took over the main building of the center, and turned the various rooms and performance area into an orgy of collage, video performances and Germanic graffiti about the role of art, or rather of Meese's all-inclusive pantheon of art and history in which personality is king, and fictional figures meld with the factual in a complicated belief system that's hard to crack. The bottom line, if one is to believe artist statements, is that "Art is not a religion, but every Religion is Art."
Supposedly, said installation was also a re-interpretation of host Robert Wilson's own work, and that Wilson and Meese spent long hours reimagining the piece together. Meese also performed during the cocktail party for the amused crowd, against the backdrop of the star painting from his New York Exhibition, an epic neo-expressionist triptych with the user-friendly title of SCARLETTIERBABY de METABOLISMEESEEWOLF (BLUTHUNDINNINBABY mit STOFFTIERWECHSEL IM SAALBLUT). The consensus seemed to be that the performance was just as cryptic, but that during which his mother urged him from off-stage to hurry up in German. Charming to be sure.
Meese also had several menacing, larger-than-life bronze figures greet visitors as they made their way into the party and elsewhere around the compound. Perhaps they were just the easiest things to focus on, but the sculptures delivered a strong impact nonetheless. Crude, gorgeous and human; as dusk set upon the party, the figures became even more compelling.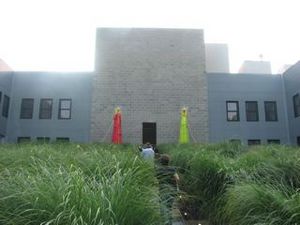 But Meese was merely a piece of the puzzle. On the grounds one was also treated to various performances by Shakespeare's Wild Sisters, dancers who ran about the wooded grounds with white frocks and matching white cubes upon their heads. Others bum-rushed one other to reach beds amidst the trees, freezing their steps from time to time, adding to the surreal character of the event, and occasionally spilling the cocktail of a startled party viewer. Uniformed waiters also roamed the wooded path to remedy just this problem.
This same forest held a stage of sorts for Brooklyn noise band Japanther, who were brilliant as always if somewhat out-of-place, with some sort of robot dragon sharing their alfresco stage.
One installation that perhaps warranted more attention than it received was a work by Anite Dube -- a series of four gigantic red candles, which spelled out "LOVE," tucked away in a discreet corner of the grounds. This was collector and Hamptons resident Michele Pesner's favorite, though she enthused about the whole event. "We love talking to Bob and other very interesting creative people from around the world."
Remember, this was a benefit. Previous years, the work auctioned seemed to be missing something, seemed slightly behind-the-times for an organization so close to Chelsea. This year changed that, with brilliant pieces by such luminaries as Assume Vivid Astro Focus, Lisa Yuskavage, and Gedi Sibony. Some said there was now too much work to bid on, but there was still steep competition for many pieces, with Beth de Woody seemingly leading the pack. You can be sure that the whole "Gesamtkunstwerk" was a success.