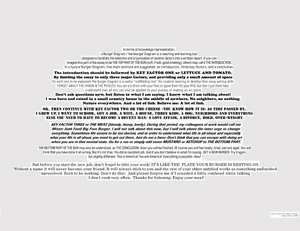 Saturday, August 8th, the Laundromat kicks off its 2009 season with The Burger Group Show – a one-day exhibition complete with selections from The Laundromat Flat File and a menu of 'conceptual burgers.' The show features work by returning Laundromat artists, as well as newcomers who will be exhibiting their work with the space this fall.
Each participating artist has crafted a 'conceptual hamburger' that references the study of art history, or art-related concepts. The artists will be writing descriptions of their respective burgers for the menu, and cooking their creations for patrons. Founder and director of the Laundromat, Kevin Andrew Curran, sees the menu as a "tongue-in-cheek" opportunity for the artists to make commentary and fuel artistic discourse.
Curran does not intend to teach visitors a formal lesson, but he does see the potential for artists and visitors alike to indulge in "some (serious) fun with the idea of creating and consuming hamburgers that are playfully engaging art history." The show also provides an opportunity for the Laundromat to display works from the space's rotating Flat File. Artists included in the File lend their work to the Laundromat for one year, after which the drawer may be offered to another artist. In this way, Curran hopes to increase the number of artists whose work may be viewed in the flat file, while simultaneously increasing the geographic diversity of the collection.
The Burger Group Show will be held at the Laundromat gallery on Saturday, August 8th, from 6-10 PM. Participating artists include Chris Deo, Sarah McDougald Kohn, Maria Walker, Jonathan Allmaier, Scott Wilson, Ben Godward, Joe Protheroe, Ianthe Jackson and Liz Atzberger. Conceptual burgers will be on sale for $5 to $20, and visitors are invited to take home a copy of the menu.