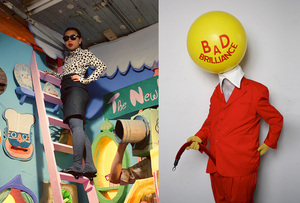 The PIG opened in Deitch Project's Long Island City location on April 25th. The collaborative show is a reincarnation of a group show from Art Basel Miami Beach in December of 2008. More artists have joined returning names such as Paola Pivi and Austrian art collective Gelitin to give the installation a new life. The featured artists are bound by the common threads of collaboration, plays on formalism, and a spontaneity accompanying the use of found materials.
When reached by phone, Director of Deitch Projects Andrea Cashman credited the exhibition with "delighting and inviting the viewer to really engage with the work." Along these lines, The PIG Presents Summer Sunday School – a series intended to be a playful version of Sunday School. Summer Sunday School includes panels, workshops, question and answer sessions, demonstrations, and performances connecting a wide array of art-related fields.
This Sunday, The PIG Presents Summer Sunday School with performances by Thu Tran & Bad Brilliance. Tran has a program with IFC called Food Party in which she turns a cooking show into a post-modern performance of sorts. Tran will be giving a live demonstration on building cardboard props, as well as screening an episode of Food Party and Bad Brilliance will be performing Red Carpet to Nowhere. Sunday School begins at 6 PM.
The Pig runs until August 9th, 2009 and will be culminating in a 'zine making workshop with Trinie Dalton, Ben Jones, and Dan Nadel.