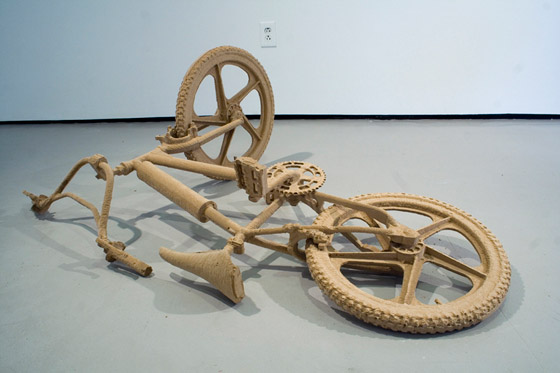 At NURTUREart's exhibition for the Bushwick Biennial, the intent is to focus on "utopia, urban change, and the role of a place in artistic identity" but the resulting show is dreamier and niftier than those themes might imply. Entering the gallery made me imagine walking into a human-sized, contemporary version of one of Joseph Cornell's boxed assemblages.
Going upstairs to the show is a gradual, gentle process, beginning with the trailer parked outside the building, which houses a garden complete with a pond and love-seat length bench (there is a tiny, even cuter prototype of Kim Holleman's work, Trailer Park, in the gallery itself.) The show is sandwiched by gentle, repetitive pieces – the stairs leading to the space play host to Escalator Helix Vertical, an animated illustration of spinning escalators, and the gallery's adjacent rooftop is covered with Audrey Hasen Russell's Beam Tower with Pink Grass, which is what its name implies – coils and coils of cotton-candy-colored pink foam which have been cut into spiky forms to look like grass.
I really liked this show, though I expected not to. My last experience with earnest-seeming art in Bushwick was…I can't remember when. I may have never seen it before. Benjamin Evans, who curated the show for NURTUREart, has done an incredible job of putting together something appealing, and sometimes even cute (be sure to see The Farthest City, by James Reeder – it's a charming wall-mounted utopia) that still maintains a sense of humor and a healthy sense of dignity. A perfect example is Fallen, Jonathan Brand's prone fiberboard bicycle. The life-sized, super-accurate apparatus lies on the gallery floor in front of three petite drawings depicting a biker in various stages, the last of which shows him on the ground next to his similarly horizontal bicycle. The drawings are sweet, and they're funny, and they're good. Please go see this show. Its so nice to encounter work that is simultaneously compelling and funny.