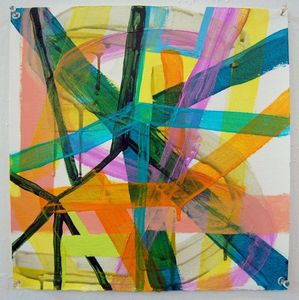 This Saturday marks the opening of the inaugural Bushwick Biennial. Four Bushwick-area spaces will be showcasing the work of local artists – NURTUREart Non-Profit, Pocket Utopia, English Kills, and Grace Exhibition Space. We have spoken with artist Austin Thomas, director of the art and social project Pocket Utopia. For the Biennial, Pocket Utopia will be exhibiting the work of eight Bushwick-area artists in the space's last show of its two-year run, "Finally Utopic."
ArtCat: I understand that this is the inaugural Bushwick Biennial. Can you speak a little bit about what it means for this area of Brooklyn to stage a Biennial?
Austin Thomas: There's definitely a local flavor to this Biennial – that local flavor being Bushwick. There's a lot of creative energy and diversity in the Bushwick art community. All the spaces in the Biennial are "alternative," meaning they're artist-run, no-profit, performative and rad!
AC: What does ''utopia,' mean to you in the context of Bushwick?
AT: Bushwick has a small art community, small being the operative word, and therefore an intimate one. There's an abundance of creative opportunities, with something like 35 art organizations in Bushwick, and there's affordable space to make, produce and see art. There are a few creature comforts too, including places where artists can eat and drink cheaply. It's relatively quiet there and neighborly. There is opportunity to create in Bushwick and that is an ingredient in the making something utopic, or a Bushwick utopia. I like the word and idea of making a pocket utopia because that has limits and therefore a place to make mistakes not concerned with perfection.
AC: What are some of the goals of the Bushwick Biennial?
AT: I think the Bushwick Biennial is an experiment and represents the spaces that are participating. We are all experiments.
AC: What does the title "Finally Utopic" refer to?
AT: "Finally Utopic," is the last official show at my current space; the first show was called "Not Yet Utopic." I'll do other projects in other places – "Another Pocket Utopia" could be the next show.
AC: The four participating galleries are quite spread-out. Is there a conceptual or aesthetic thread that unifies them?
AT: You can walk to everything, I did it. We're connected in our independence.
"Finally Utopic." Pocket Utopia: 1037 Flushing Avenue, Brooklyn. June 6 - June 28, 2009. Opening: Saturday, June 6th, 6-10 PM.