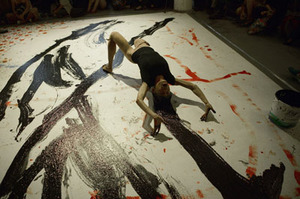 The International Studio & Curatorial program, a former warehouse wedged conveniently in East Williamsburg next to an egg factory and a few fungus-like new condos, is the perfect place to serve as host to visiting artists and curators. Not too big, the space has only a few galleries open to the public while the rest of thie building is home to studios for international artists in residency for the year. Inviting and manageable, this charming space held an intimate evening of performances by artists who incorporate music into their work, or did so at least for Hear Myself In It an evening of music set against the current exhibition up at ISCP titled On the Tectonics of History.
That exhibition explores the legacy of Nazism, its impact on the current socio-political climate and how people work through the past using present day images. The work runs the gamut of media with photography, film and video, experimenting with the nuances of memory by combining the factual and the conceptual. In this context the musical evening unfolded as a sort of reprieve from from the exhibition's heavy-hand and it's overwhelming amount of information, which proved a bit much to take in. Luckily, digesting On the Tectonics of History did not interfere with enjoying the sweet musical experiments of Hear Myself In It which had been the point to begin with.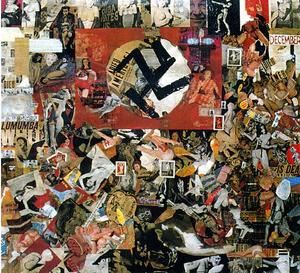 Performing very eclectic and varied numbers were the girls of Feather and Folly, a dreamy duo with sweet harmonies and a cornucopia of instrumentation, Lilibeth Cuenca from Denmark who currently has a residency at ISCP, Amelia Saul, Amelia Winger-Bearskin whose time-based art relies on the viewer's participation, and Private Time, whose unusual performances find their ideal home in the industrial spaces of art foundations and progressive collectives. Part of the Northside Music Festival, this evening added an artistic element to a what otherwise would have been merely another music festival, which are fast becoming as ubiquitous as biennials. Hear Myself In It proved a necessary burst of art within this musical context and another great evening at ISCP.