Without
Meleko Mokgosi & Matthew Watson, Without
Work - 65 Union Street, Brooklyn NY
27 March 27 - 20 April 2009
Without, an intimate exhibition of new works by Matthew Watson and Meleko Mokgosi at WORK Gallery, toys with the definition of its seemingly simple preposition. Usually implying an absence or lack, in its most archaic form it connotes the external. It is there, in the negotiation of topical superficialities with self-identification and cultural expectations, that these two very different artists meet conceptually. In their hands, paint itself becomes a metaphor for experience.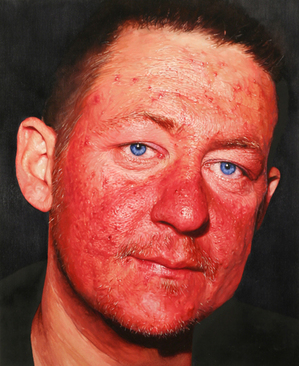 With aristocratic portraiture as his touchstone, Watson's images of Brooklyn locals demonstrate a true art historical praxis but with a twist. The Greenpoint immigrant of Untitled Portrait lacked even the basic English skills to share his name or identify himself — really to fulfill even the essential purpose of a portrait. The closely cropped composition and decontextualized background makes the grotesque surface of his splotchy, red face the lone signifier of his identity. Appearing to suffer from the side-effects of heavy alcohol consumption in the form of extreme rosacea and severely damaged capillaries he fulfills the stereotype of a drunken, lethargic immigrant.
Steeped in the methods and materials of Old Masters, Watson's process counters this presumption in subtle ways. Over a period of months, he meticulously layered oil paint mixed with powdered Venetian glass and fir balsams upon a copper plate, an extremely labor-intense medium. Watson's large investment of time and materials upends the value system of a society that marginalizes its newest members, while the very choice of a marginalized, undervalued subject undercuts the fetishization of the art object.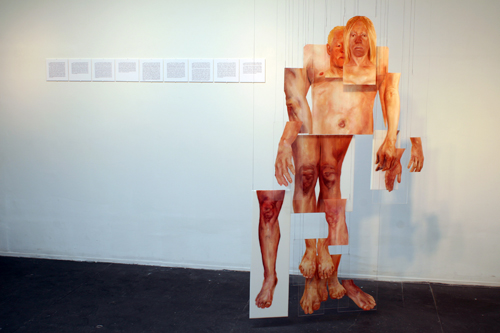 As Watson distills a deep art historical knowledge, Mokgosi complicates matters. A standard wall-text becomes an intricate treatise; a double-portrait a violent distortion; and a subject interview a compelling commentary on race. In the vein of Adrian Piper, though less adversarial, Mokgosi links conceptualism to race. At the center of The Ruse of Transparency II, is a nude portrait of a couple of African-American descent with albinism — the absence of pigmentation of the skin and hair. Various body parts are composed on segments of shatter-proof, transparent plastic hanging from the ceiling. The transparency of the plastic constantly distracts one from the act of looking, and Mokgosi further disrupts the viewer.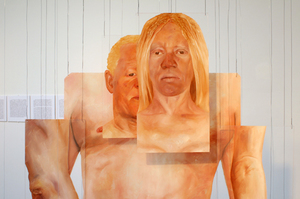 The couple's faces are layered atop too many feet and limbs for just two people. Their identical skin tone meanwhile trumps the impulse to sort and assign these parts. The exclusion of genitalia is less Sojourner Truth at the Dinner Party and more a purposeful confusion of gender to stymie further attempts at classification. All of these visual miscues — African-American facial features with white skin, too many body parts for just one couple, and uncertainty of what is male and what is female — frustrate the culturally conditioned norms of identifying others by race, sex and thereby, class.
Mokgosi doesn't leave the viewer completely adrift, however. In a stirring interview, Travon Edwards, the female half of the couple, recounts how she was raised by a supportive grandmother, but was made aware of her difference by the outside world, which labeled her an abomination. Neither black in skin tone nor white in heritage, Edwards occupies a liminal space in which self-determination is constantly under attack by external forces, both for what she is and what she lacks. Mokgosi's surface miscues have protected her from the world's judgmental gaze within the least likely of places — an art gallery.
Painting by such relatively young artists could easily translate into a glorified BFA exhibition but Mokgosi and Watson emphatically defy that expectation by producing compelling, mature contributions to the field. They are willing to create serious art that consciously considers its critical consequences for society. Founded just under two years ago by Walker Waugh and Emily Driscoll, WORK Gallery is clearly setting a high standard of quality, risk-taking exhibitions for any establishment that may wish to join it in Red Hook.