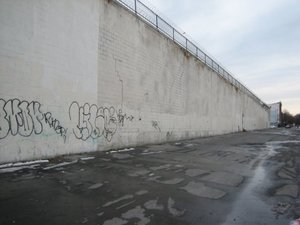 According to our sources, David Yassky's office is moving full steam ahead with the India Street mural project. Thanks to a seed donation of $8,000, the North Brooklyn Public Art Coalition is now accepting proposals for the huge concrete wall in between West Street and the East River in Greenpoint. The building is slated for demolition in Fall 2009, but in the meantime, NBPAC is eager to infuse the space with some public art. There are eleven artists, teachers, and even some India Street residents on Yassky's panel. It's a fairly open ended project, but they are looking specifically for art that celebrates arts in the community, so you'll get points with panel members for keeping proposals family friendly. Still interested? Submission guidelines and applications are available here.
But hurry! Applications are due April 24th.
Rami Metal, from David Yassky's office, who headed up the second NBPAC meeting, called the India Street mural initiative, "a kickoff project for the coalition…which will hopefully snowball into a lot more public art projects in the future." So if murals aren't your thing, feel free to contact Rami and NBPAC with a different proposal. Based on those attending tonight's NBPAC meeting, the coalition is interested in anything from sound art to dance performances, as long as its accessible to the public, located in North Brooklyn, and, well, free. More info at Greenpointers, here.