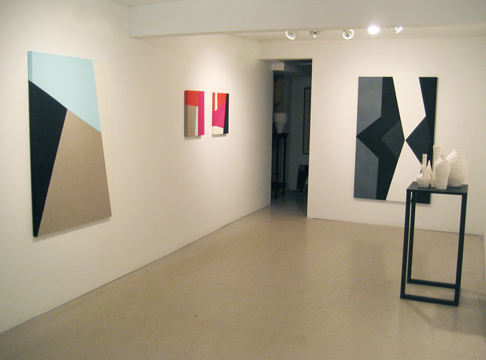 Paintings and Pots
Sarah Crowner
Nicelle Beauchene Gallery - 165 Eldridge
26 March - 3 May 2009
Familiar New York soot thinly coated the bone-dry, paper-white surfaces of Sarah Crowner's misshapen natura-morta rendered three-dimensional. Her decision to place five white vessel sculptures in the shoulder-high window of Nicelle Beauchene Gallery seemed particularly strange at first. However, this earnest arrangement begins a dialogue between art histories through a quiet re-contextualization of medium specificity. Paintings and Pots, the title of Crowner's first solo exhibition, would come to seem mostly inaccurate.
Two other groupings of endearingly crude, achromatic vases also ignore carefully balanced tone and composition in the referred still-life paintings of Giorgio Morandi, forbearer to the Minimalists, setting off a kind of referential play that continues within the other works on view. Crowner's canvases, which command the show, employ a restrained palette and bring to mind the male-dominated canon of 1950s and 60s Post-Painterly Abstraction. Though unlike those surfaces, her works divide into roughly textured linen, painted canvas, and solid-colored cloth, thereby re-introducing a handmade element to the cool touch in painting by figures such as Ellsworth Kelly. In two acute compositions, both titled Dichromatic Organization, 1959 (2009), a tension vibrates between the pictorial and physical components. The accelerating, triangular slices found in the work of Swedish painter, Olle Baertling (1911-1981, explicitly referenced in press materials) are sewn together by Crowner in a manner reminiscent of Miriam Shapiro's (1923–) innovative fabric-and-canvas assemblages. Shapiro, a forerunner of the Pattern and Decoration Movement, began her career as a hard-edge painter.
Crowner's canvases also piece together, and in some cases seem to pull-apart the gendered concepts of craft and high-art while joining the delimited surfaces within slick, hard-edge painting. Her use of a sewing machine evokes obvious notions of "women's work," while the substitution of cloth for paint returns the viewer's gaze, checked: where one normally expects to see paint, a seemingly flat and more illusionist, yet tactile, fabric comes into focus. Crowner succeeds in historically grounding two disparate eras, but are the resulting objects a reconciliation or reclamation? How and in what ways do we distinguish art from craft, and which artists bothered to ask such questions?