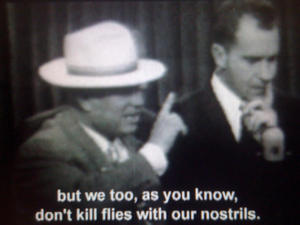 DOUBLE TAKE, followed by Q&A with Johan Grimonprez
6:30 Wednesday 25 February 2009
Sean Kelly Gallery - 528 W. 29th St, New York NY
The centerpiece of Belgian artist Johan Grimonprez's current solo exhibition at Sean Kelly Gallery is Double Take, a new feature-length video playing daily at scheduled times during the gallery's normal hours. The film is the second major video work to follow Johan's 1998 breakthrough Dial H-I-S-T-O-R-Y, a study of political radicals operating as airplane hijackers and their transformation in both the media landscape and popular imagination since the 1960s. Grimonprez's new work, co-written with novelist Tom McCarthy, turns an obsessive eye to Alfred Hitchcock, theorizing his creative output from the 50s and 60s in the greater context of Cold War American culture. Like Dial H-I-S-T-O-R-Y , the new video is composed of a melange of diverse media, from broadcast television to some odder moments of Hitchcock features. The work's central narrative features a Borges-like short story, narrated by a Hitchcock soundalike, about the filmmaker meeting his double on the set of The Birds.
In addition to regular programming during gallery hours, Sean Kelly Gallery has scheduled several after-hours evening engagements in which the film will be be shown. The first such engagement will be this Wednesday at 6:30, followed by a Q&A session with the filmmaker. This event comes highly recommended.