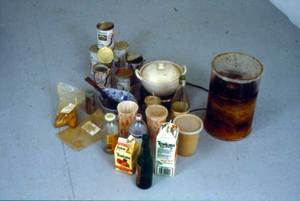 CHEW THE FAT
Rirkrit Tiravanija
8pm Friday 14 November 2008
Guggenheim Museum - 1071 5th Ave, New York NY
This Friday evening, the Guggneheim museum will screen Rirkrit Tiravanija's Chew the Fat, a new feature length documentary on the art of the "1990s art" that is so often deployed as a short-hard to talk about the Euro-American axis of artists involved with theanyspacewhatever exhibition. Structured as a series of interviews the artist conducted with his colleagues, the suite of videos arrives as a welcome stage for self-representation in an otherwise deeply contested critical field. The videos will also be shown on the cinema screen the evening of Tuesday, 2 December, as well as Sunday and Monday afternoons.