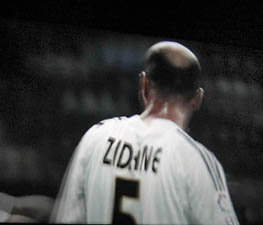 Zidane, A 21st Century Portrait
7pm and 9pm, 27 - 30 October 2008
Anthology Film Archive - 32 2nd Avenue, New York NY
$8
Now through Thursday, 30 October, the Anthology Film Archives will be presenting nightly screenings of Douglas Gordon and Phillipe Parreno's Zidane, A 21st Century Portrait, a film work from 2006. Working with seventeen film cameras and various live video feeds -- all focused on Zinedine Zidene, the former French football midfielder, as he played a match late in his professional career for Real Madrid against the Villarreal football club -- the two artists collaborated with editor Herve Schneid to create a realtime 90-minute portrait of the athlete deeply involved in his work. The result is a work more in the legacy of Warhol's film portraits and less of the painterly or photographic traditions. It is as committed to the grand aspirations of a spectacular, highly produced representation as to its unyielding interest in the central figure in motion. The film will be showing twice each night at Anthology from as the original 35mm print (a mass produced DVD edition was recently made available to German audiences for less than $20), and coincides with the recent opening of anyspacewhatever at the Guggenheim, an exhibition in which both Parreno and Gordon participated. The film will be co-presented at BAMcinematek several times this week as well.