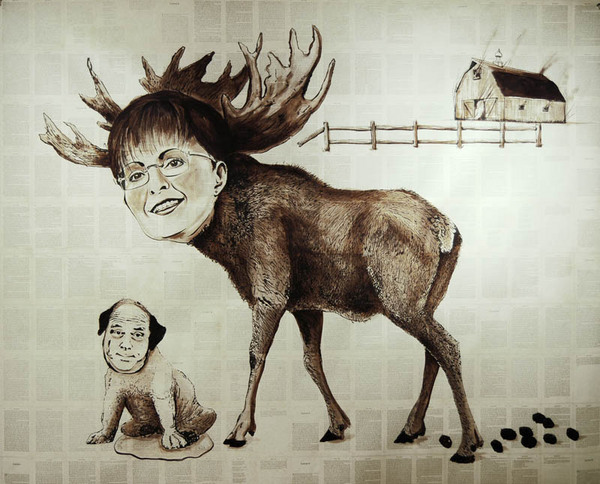 Party Headquarters: Voting is Just the Beginning
Curated by Eleanor Heartney and Larry Litt
September 26 – November 4, 2008
Pratt Manhattan Gallery
Joining the numerous election-oriented exhibitions that have opened around New York City since the start of the season, the Pratt Manhattan Gallery departs from a prevalently grave approach to the topic and focuses instead on satirical politics. The works included in Party HQ range from simple renditions of iconic images to sharper critiques of political personalities.
In conjunction with the exhibition, Allan Wexler has constructed a collapsible voter registration booth comprised of several pegboard sheets that are held together with an American flag. Starting August 28th and until the final day of voter registration in early October, Wexler erected the booth in various locations around New York City in order to encourage and enable people to register to vote in the upcoming general election. He purportedly registered 500 new voters through his efforts, some of which are documented in the exhibition. Also on view are three black ink drawings by veteran artist Arnold Mesches, which depict scenes from the RNC and DNC — another form of political dedication. Capturing their true zeitgeist, Mesches outlines the material density and chaotic atmosphere inherent to these intense events.

The lighter, more ironic projects in the exhibition juxtapose political figures with pop icons in order to critique the country's current state of affairs. Dan Mills presents three watercolor drawings that are each composed of two superimposed figures – an individual from the Bush administration and a cartoon character. The outgoing Secretary of State emerges from the shadow of a femme fatale in Condoleeza Fatale (2006), while Dick Cheney sits upon the majestic chair of the Simpsons' evil Mr. Burns in Dick (2006). Another apt example of this approach is a work by Tim Rollins + K.O.S. (Kids of Survival). The two have been collaborating since the 1980s in a workshop titled Art and Knowledge that Rollins, a special education teacher, founded in the South Bronx. The workshop produces straightforward drawings borne from their discussions of famous literary works. In Party HQ they present Animal Farm '07 (after George Orwell), a drawing that depicts Sarah Palin as a moose that just defecated, and John McCain as a urinating, docile dog. The drawing utilizes the book's pages to form its background.
Perhaps the most explicit use of satire comes from Kenneth Tin-Kin Hung's Residential Erection (2008). Visible in many different contexts since it was first exhibited at Postmasters gallery last spring, this video finds a suitable setting in Party HQ, as the exhibition by and large complements the work's abrasive imagery and aesthetic. Framed by sensationalism and perversity, this animation video presents a cast including from McCain, Obama, the Clintons, Britney Spears, Stephen Colbert and Borat in absolutely absurd predicaments. In Hung's work, as well as the other projects on view – the informed standpoint from which they were developed is quite evident. It is a relief to observe coherent and intelligent works that manage to maintain a healthy balance of humor and determination. As Election Day rapidly approaches and the surrounding temper continues to intensify, it could prove useful to draw upon these poignant, yet immensely entertaining reflections, and adopt them as our own models for acting.