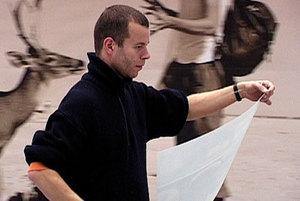 If One Thing Matters: A Film About Wolfgang Tillmans
7:30pm Thursday 2 October 2008
$8
This Thursday at Anthology Film Archives, Heiko Kalmbach's recently completed documentary on photographer Wolfgang Tillmans will be shown for one night. If One Thing Matters... is the result of four years Kalmbach spent with his subject, and depicts the latter in his own voice: working, traveling, exhibiting and producing the pop portraits, abstracts and documentary pictures for which he is so well known. The title of the film is borrowed from Tillmans' major 2003 exhibition at Tate Britain, three years after the artist became the first photographer (and non-British subject) to win the prestigious Turner Prize. The filmmaker will be present at the screening to introduce his work and answer audience questions following it.