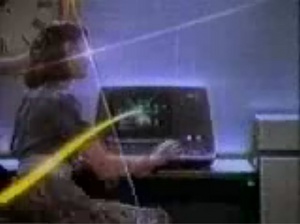 Bruce Conner's canonical gestures -- from the splashes of film leader, to the blank shocks of violence and repetitive imagery native to his short films -- were on full display this past Tuesday at Light Industry's most recent offering, Crossroads: A Tribute to Bruce Conner. A neat paean to the pioneering film and collage artist who passed away earlier this July, Crossroads took a look at the shaggy filmmaker's legacy in the works of 25 artists of several generations, working with various media.
The tribute's selections were mostly bite-sized and borrowed from a variety of sources, true to form to many of Conner's shorter, found-footage films. Luther Price's Inside Velvet K, with its mid-century footage of clinical tests, maggots, and solar flares, has the same apocalyptic ring and grainy found aesthetic of Conner's most famous work A MOVIE. Dara Birnbaum's whipsmart Pop Pop Video, a dissection of television gunshots and wounded howls chopped with test patterns (TV's equivalent of Conner's favored black leader) is a slick, New Wave treatment of Conner's favorite topics of media and violence. Amongst these rougher patches were cartoonish oases of critique -- Conner's forte. Animal Charm's Edge.TV, remixed the talking-pets blockbuster Homeward Bound into a humdrum (and brilliantly comic) montage of empty front yards and babbling animals. Bradley Eros' l'oop, a film collage built upon a blueberry-hued clip of Olive Oyl, is shot through with snippets of ethnological footage and boasts a soundtrack of Nancy Sinatra, Woody Woodpecker's cackle, and Popeye's tuneful groans.
Conner's persistent and effective use of music in much of his work -- at one time or another he'd worked with Toni Basil, Devo, Brian Eno and David Byrne to essentially create the music video -- was present in the anxious throb of Roger Beebe's TB/TX Dance; John Michael Boling and Javier Morales' frenetic, screen-obsessed Blast Yr Body; and Oliver Laric's 50 50 2008. In the last work, appropriated snatches of various YouTubed fan-made renditions of 50 Cent's In Da Club are edited into a seamless music video. Laric's digital cut-and-pastes become a wry translation of the film editing hand, while the artist imagines YouTube as the new cutting room floor and Conner's films as an artistic blank check.