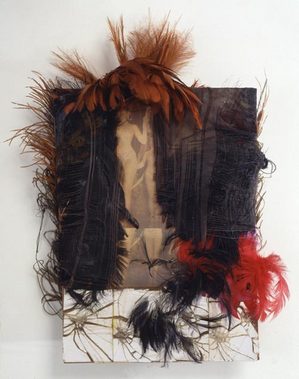 Crossroads: A Tribute to Bruce Conner
8pm Tuesday 14 October 2008
Light Industry - 55 33rd Street, 3rd Fl, Brooklyn NY
$6

Tomorrow evening, Light Industry in Sunset Park, Brooklyn, presents Crossroads: A Bruce Conner Tribute, a program of motion picture works selected for a memorial to Conner, who passed away this past July. Conner as an artist worked across mediums, exhibiting his paintings, sculptures, assemblage and works on paper since the mid 1950s. Coming out of a conventional American art training, Conner began making films a few years after completing his undergraduate degree, shortly thereafter inscribing himself in the narrative of American experimental cinema with several now canonical works of found-footage 16mm film. Conner's films are described by film historian P. Adams Sitney, along with those of colleagues like Ron Rice and Christopher Maclaine, as a mid-century west coast Beat aesthetic. They are lyrical, playfully mythic, often quickly cutting, and potentially appealing to a non-specialized audience, while simultaneously incorporating sophisticated metaphors and shifting symbolic baggage. Conner's first completed film, A MOVIE, 1956, remains one of his most popular, consisting of a dense 12-minute collage of appropriated film sequences from various fiction and non-fiction films masterfully split and cut with black leader. Among the general sensational thrust of the images which make up A MOVIE -- of sexual enticement, modern warfare and its equipment, industrialized transportation, human recreation, car and plane crashes, animal life and ethnographic documentary -- there lies buried, late in the film, another defining image of the 20th century: the atomic blast executed by the U.S. Government as a test at Bikini Atoll on one of the Micronesian Islands of the Pacific Ocean. This image, appearing briefly in A MOVIE, is elaborated upon in Crossroads -- the work lending its title to the evening's screening -- in which we see the infamous Bikini Atoll test footage slowed down and reprinted to make the entirety of the equally mesmerizing and terrible 36 minute film.
An intergenerational roster of artists have contributed work to be shown on the occasion including Peggy Ahwesh, Craig Baldwin, Dara Birnbaum, Ken Jacobs, Eileen Maxson, Keith Sanborn, Bradley Eros, Ernie Gehr, Michael Robinson and others. Part of the evening's proceeds will go to benefit Anthology Film Archives's preservation of Bruce Conner's films.