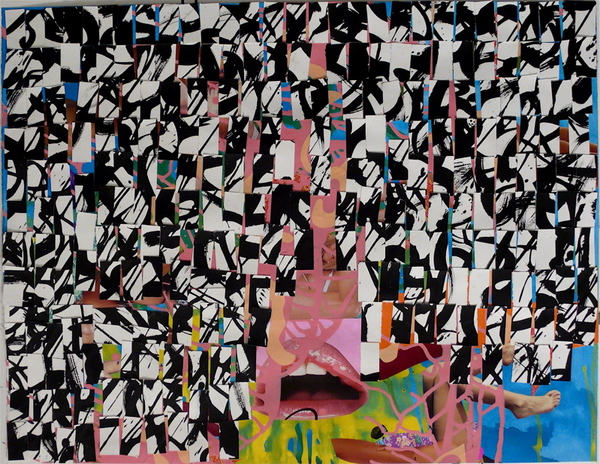 Suspension: Paintings by Liz Ainslie & Collages by Evan Reehl Ryer
Spazio 522 - 526 West 26th Street, 5th Floor, New York NY
29 May - 15 August 2008
Pictures and words don't always make ideal companions and often make awkward lovers but fortunately for Liz Ainslie and Evan Reehl Ryer they are both visual artists while I am left with the difficult task of writing about these two who seem to mambo (visually anyway) with flair.
Ainslie's work is an odd mixture of Giorgio Morandi's hazy vision and Ad Reinhardt's floating geometry. She has a knack for painting simple compositions which slowly reveal themselves to be complex, moody and sophisticated. Ryer's work is fast, layered and jarring. They look like Henri Matisse collages on crystal meth.
I assume the show's title derives from the feeling of weightlessness in each artist's work; yet that loose airy feeling is clear in Ainslie's art but less certain in Ryer's. There's no self-consciousness in Ainslie's brush. She draws luscious shapes that float in fields of color that are sometimes jarring but more often swim in a sea of brushstrokes and textures. Her latest series -- she calls them "slices" -- are her best yet.
In Slices, Sod (2008), boxes and rectangles stack atop a shallow pool of moody blues. The artist is at ease with the forms and never makes them feel precious -- instead they to float quietly along, sometimes poking beyond the picture's edge. Her paintings on wood and board, like Slices, Sod, are full of rich colors appear, while her works on canvas seem to deadening the effect of her taste for strong color. The grays, blues, salmons and turquoise here are sensual, imperfect and human. They echo the panel's shape and the same depth which makes each box an endless symphony of rectilinear forms. The other works from the series on display, like Slices, Green (2008) and Slices, Found (2008), explore the same language in different versions. The former finding a perfect pitch of high- and low-toned color and and the latter striking a more somber tone dominated by yellows and grays.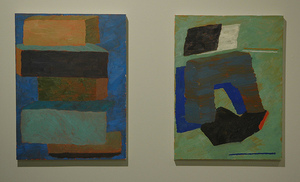 Ryer's collages share the same sense of rhythm as Ainslie's work but he has a jazzy sensibility--in contrast to Ainslie's more classical tone. His "Chinatown II" and "Rain on Me" (both 2007) are the most successful at distilling a sense of exuberance. They are thrilling and complex. Both are overlaid with a strong black graphic that shatters the surface. Sexualized bodies and strong solid colors peak through the black and white grids that dominates both collages. It is as if Evan is interested in the effect on the eye more than the pleasure of looking.
His gouache work Growth (2006) is also layered but here the image is more relaxed. The eye-like form at the center is enticing and the lattice of blue doesn't overpower (well, not completely) the vibrant background layer. The diagonal brushstrokes underneath suggest a frenzy of color that is fresh and alive. Five-finger (2007) may be one of his best on display. A combination of collage and bold fluid color, neatly clipped fingerprints (the artist's own?) blossom like bizarre and wondrous flower pedals.
There is a coyness to both artists here and the small works which don't allow you to loose yourself in them as much as catch sparks of clarity. I left the gallery overwhelmed with their visual dexterity -- but that's not to say there aren't weakness in the show. The curation doesn't do each of the works justice, and interspersing the works of Ryer with Ainslie doesn't greatly benefit either artist. Perhaps separate walls for each would've allowed the dialog to form naturally at the viewer's will and not seem forced. The other problem I detected was the tendency of some works by both Ainslie (particularly her canvas works) and Ryer (like Figure (2007)) to flatten out into a graphic mess. Each artist is obviously able to create multi-dimensional works that float on various planes and that, in my opinion, is one of their strengths.