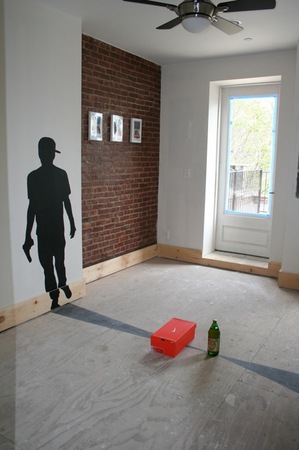 Too frequently the conversation surrounding gentrification amounts to a frustrating mix of polemics and general confusion. Rarely has an issue been opposed by more people less effectively. This is all the more interesting because the process usually has its roots in very simple zoning adjustments designed to attract the creative underclasses - typically the adjustment of industrial ordinances to allow for live/work spaces. Which is to say that the opposition should have a pretty clear and easy goal; namely stopping such changes from being enacted at the municipal level. And yet this is rarely the case as the issue comes to stand-in for fissures within the dominant classes - as artists oppose hipsters oppose the bridge and tunnel crowd and so forth.
This weekend marks the opening of the fourth installment of a refreshing take on the question, the HomeBase project, an annual, site-specific, artist-run investigation of the question of 'home.' This year's episode will take place on the Lower East Side. Bringing together artists working in many different media from all over the world, curator and founder Anat Litwin attempts to create a space that simultaneously investigates the surrounding neighborhood, as well as whatever concept of home the artists bring to the table. Though not explicitly an investigation of gentrification, the choice of neighborhoods, SoHo, Greenpoint, Harlem, and now the LES, shows a sensitivity to those neighborhoods most in-flux with regards the question of home.
The location for HomeBase 4 is the Bilaystoker Center for Nursing and Rehabilitation, at 232 East Broadway, This year's artists include David Bar Katz, Willum Geerts, Oded Hirsch, Sandra Lee, Pessi Margulies, J. Morrison, Abby Robinson, Paul Sepuya, Dafna Shalom, and Letha Wilson.