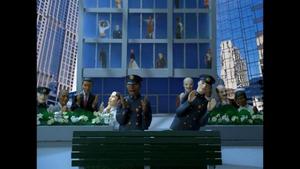 Two events investigating identity and truth are on offer for tomorrow. The first is the opening of Surveillance from the Dollhouse, a group show at Mireille Mosler. Fastening a "convergence of drawing and puppet animation by five consummate female artists," Surveillance... investigates the construction of identity via works that span almost three decades. Puppetry has long been fertile ground for such questions, bringing to visceral life questions about power, control and movement. In addition, this exhbition is an opportunity to see video work by Nathania Rubin, Cindy Sherman, Laurie Simmons, and Karen Yasinsky, artists not typically known for the medium.
Even further uptown, Thomas Demand is speaking at Columbia tomorrow evening. Demand has long been a connoisseur of construction, fabricating massive installations made from paper and cardboard for the purposes of photographing them. Demand's photos call attention to the specific details we rely on to adjudicate representation into the real and the false. Thus, in his very obsession with detail, he pushes the real farther and farther away, as smaller and smaller intricacies reveal his fabrications for what they are Demand's talk is called Fact, Fiction and Fabrication.
Elsewhere, Walid Raad was among those honored with a Guggenheim Fellowship. Raad's work has long been at the forefront of the intersection of history, representation and the archive, spanning across media and authorial guise.