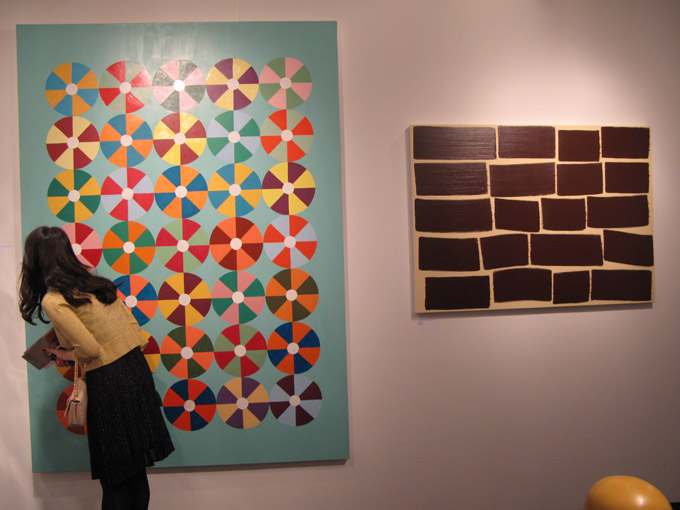 I can still remember the glorious days of yore (2004) when Scope was held at the not-yet-opened-but-with-a-pool Gansevoort Hotel. as the Meatpacking was quickly becoming the glorious "bridge and tunnel" cesspool, coinciding with Samantha Jones' move to the neighborhood and its quick and structural demise.The dark and swanky hotel rooms, the copious Kettle One everwhere and those frozen tubes of neon corn syrup they peddle in the local bodegas -- except this time melted and intended for use as mixers: it's a memory of sensation. Alas, Scope has changed -- neigh, revolutionized, in many ways. The air of disorganized merriment notwithstanding, the fair is now a whole new animal.
Tightly wedged between Fordham Law and Lincoln Center, Scope's highbrow neighbors are an apt consortium for the fair's presence. Scope now fills a chorus line of tents that give way before giving way to a harmonious range of galleries, individual artist projects and other sundry exhibitors. A number of notable galleries quickly draw you into their strongholds, either with great art or free wine. Let's face it, a great and timeless match that I can and will not refuse. (Huevos rancheros?) Glass and camera in hand, I immediately noticed the charming folks of Okay Mountain, an artist run gallery from Austin. Exhibiting their own collective work as well as other artists from the gallery, they had a visual cornucopia of sculpture, digital prints, works on paper, various large multi-media pieces and a friendly disposition. Further along and part of the special artists' projects that the Scope Foundation has commissioned is Comenius Roethlisberger and Admir Jahic's Without You Babe, There Ain't No Us, originally shown at Scope Miami just a few months prior. A series of works on paper utterly preoccupied with YouTube, Without You Babe... offers an antidote to the tendancy for art as a pixelated screen grab. The artists render their obsessively over-watched favorite moments with the soft markings of colored pencils, streaming online pop culture videos into simple, contemplative scenes.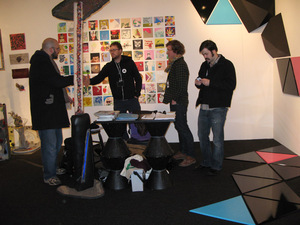 The audacious Dean Projects from Long Island City present new works by Jacob Ouillette, among others, the simple, lusciously coated canvases of abstracted form, layered and complicated by the dueling colors of his crazy palette.33 Bond Gallery meanwhile presented a solo show of sorts for Jeremy Lawson, whose graphite on paper piece filled the wall with a detailed scene of rubble and rock simple titled "S.O.S.," perhaps a portentous wink to the possible overall outcome of the fair and its larger cousins downtown, despite the valiant and tenacious efforts of the exhibitors and fair goers. I asked one gallery owner about her apprehensions, if any, and what she expected in the end to which she conceded that "while I'm nervous, I'm pretty resigned to shitty sales and am happy to be here exhibiting, schmoozing and showing great work."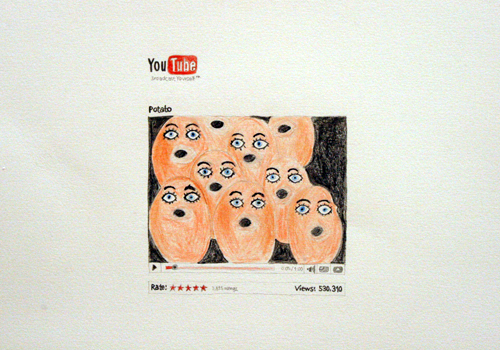 Amani Olu, founder and director of the Humble Arts Foundation, had a spacious and well-filled booth as well. While neither a gallery nor an artist project, Olu is exhibiting photos on behalf of his non-profit organization aimed at discovering, financially nurturing and showcasing emerging photographers. What started as an understated and deliciously simple web site with group shows grew into an impressive arts group that now sells limited edition prints, beautiful photography books for collectors and holds regular exhibitions that never underestimate the still arresting and impending power of the photograph. Showing five photographers, Olu's space reminds us that photography is still as intensely rewarding as ever.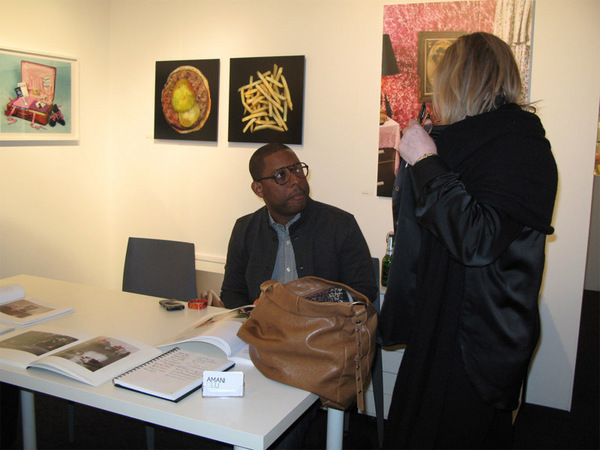 In addition to the obvious, Scope will hold regular screenings, enthralling panels, loud, noise-ridden performances and a combination of all three, including the not-to-be-missed "Regeneration Hex-You Are Your Own Screen" curated by Genesis Breyer P-Orridge (Saturday 7 March, 12-4pm) all presented by Monkey Town. There's also the "Cheap, Fast and Out of Control" project Annex for sweaty pow-wows and occasional run-ins with surly bar babes. Smaller and more manageable than The Armory and Pulse, Scope, I must admit, was a pleasant surprise and perhaps a reprieve to the madness of Wednesday's opening nights. Well, that and the fact that I'm simply not a universally recognized VIP, as much as I beg to differ. I'm glad Scope's here to fill in any gaps and be a sweet addition to the busy weekend still ahead.