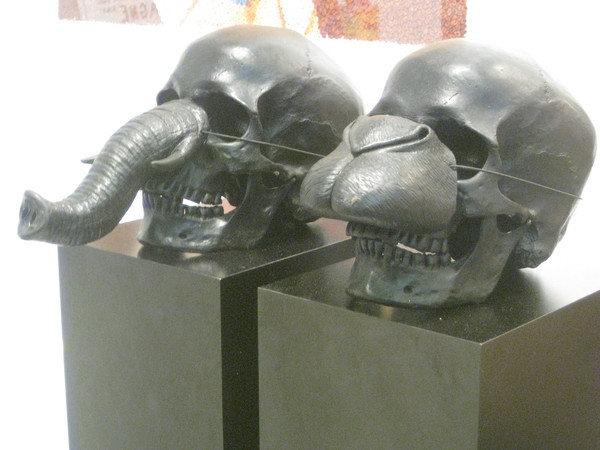 Before you even make it through the lobby of the 2009 Armory Show, the headlines of The Art Newspaper – one of the rare items at the fair without a price tag attached – offer a clear indication of the year's underlying theme. "New Pier 92: Art of the Depression… the 1930s, that is;" "Financial Situation Forces Gallery Withdrawals;" and finally, the lead story grins through clenched teeth: "Economic Downturn Prompts Stand-Out Booths." In recent months, the art world has been hit particularly hard by the global recession, a downturn that has reversed trends of blank check opulence and rendered Damien Hirst-style momemto mori itself momento mori. Galleries are scaling back, and as Holland Cotter declared last month in The New York Times, it's "day-job time again [for artists] in America." But in spite of looming fears and shrinking wallets, this year's Armory Show moves valiantly forward and strives to distinguish itself in its refusal to cut corners. While last year's fair registered a record 50,000 attendees, it's obvious the curators now hope to exceed that number, incorporating an extra pier into the Armory's already labyrinthine layout and increasing the show's size by an additional 50%.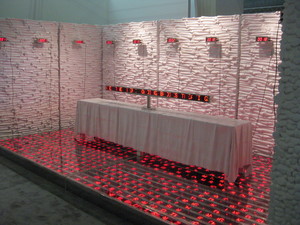 In the show's opening press conference, founding father Paul Morris described the Armory's two major developments as the opening of Pier 92 – the Armory Show Modern, which features "modern and historically relevant contemporary art" – and the introduction of new public programming designed to highlight neighborhood-specific art. The emphasis on bridging past and present is also evident in British artist Ewan Gibbs, this year's pick to design the show's aesthetic identity. Praised for his subtle line drawings and ability to "reference early Modern movements… while remaining firmly contemporary," Gibbs is an ideal choice for a fair now impelled to situate itself historically while also keeping an eye towards the next big thing.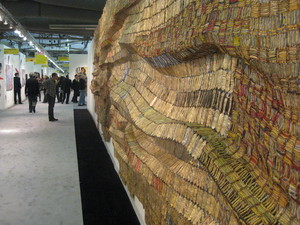 In spite of the curators' cheery public rhetoric, the show's sheer oversaturation tends to betray a sense of anxiety. On Pier 92, Rauschenberg and Calder are on display next to Wei Dong and Doug and Mike Starn, but rather than create a narrative arc between modern and contemporary work, the pier feels slightly cluttered, and as such, comes off more like a defense against art's critics than a celebration of it's evolution. But this aside, much of the work this year is fantastic. While several galleries stuck to single-artist booths – Kenny Sharf at Paul Kasmin and Gary Simmons at Simon Lee being notable examples – most continued to integrate established and emerging artists. At Deitch Projects, painting by Ryan McGinness accompanies the American-psycho inspired work of current Hunter MFA Evan Gruzis, and in the hallways near the VIP Lounge, an Armory commissioned installation by El Anatsui snakes past work by Dayanita Singh and Rodney MacMillian.
Although 2009 marked a noticeable return to painting, large-scale installations and video art still retain a prominent position in this year's lineup. "A Room to Pray" and "Keeping Faith," by T.V. Santhosh and Mounir Fatmi, respectively, are two especially stunning pieces, foreboding installations that riff on the darker implications of technology and human autonomy.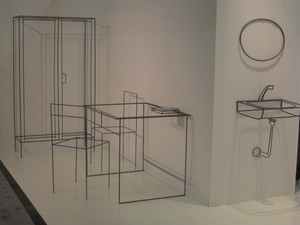 In the realm of sculpture, Mexico City's Galeria OMR features a strong array of surrealist-infused work – note the haunting pieces by Ruben Ortiz-Torres – and at Jack Shainman's booth, Nick Cave's visually mesmerizing soundsuits almost seem to buzz. Finally, a personal favorite was a series of gilded mise-en-abyme frames by the French collective Kolkoz (comprised of Samuel Boutruche and Benjamin Moreau, who sports an excellent Charlie Chaplin mustache), which realized the fair's aim of marrying the historically referential with the transgressively contemporary.

Ultimately, while it's impossible to prescribe a plan of attack for a show this size – 243 galleries and 55 countries are represented – it's also difficult to go wrong. While aesthetic restraint now appears to be a prevailing attitude (excepting, of course, the fair's curators) our current climate is no doubt producing some of the more interesting work seen in years. Through prompting a reexamination of art's past and a return to its fundamentals (which is not to say a turn towards conservatism) this year's Armory demonstrates admirably that while a recession may be cause for fiscal austerity, it's also a catalyst for creativity. Day jobs or not, things are looking good for the future of art.